Scottish Vacation Capsule Wardrobe
Life ever just get away with you? Yeah, well, that's been me for the last few weeks. I'm sorry I've been more than just a little off-grid lately - on social media and on this blog. But I'm back, and ready to start Espresso-ing Myself once more.
As some of you might have heard, this month is thematic - to the tune of travel. This month is huge for me (and for Ethan). We are embarking on our first BIG adventure together as a couple. He and I are headed back over the pond to Scotland, a.k.a. my favorite place in the entire world. So, get ready for an entire month of travel-related content to get your wanderlust juices flowing!
A lot goes into travelling - especially when going international. But once that ticket is booked, and the waiting is over, it's time for the first step - packing.
For months now I've pondered creating and living with a capsule wardrobe. Ever heard of it?
The idea is to prepare a wardrobe of clothing to wear for a period of time, only consisting of a small number of items. You create your wardrobe by carefully selecting pieces that work together so you're able to mix and match outfits over and over again.
Want to learn more about doing a capsule wardrobe for yourself? Here are some helpful resources from gurus out there that I love:
I've seen dozens of Bloggers and Influencers doing it and it looks like a really fun and creative challenge. So, I thought what a better time to try it then when you're limited to the number of pieces you can wear anyway because of suitcase space?
So, here's a look at how I styled my Scottish Vacation Capsule Wardrobe.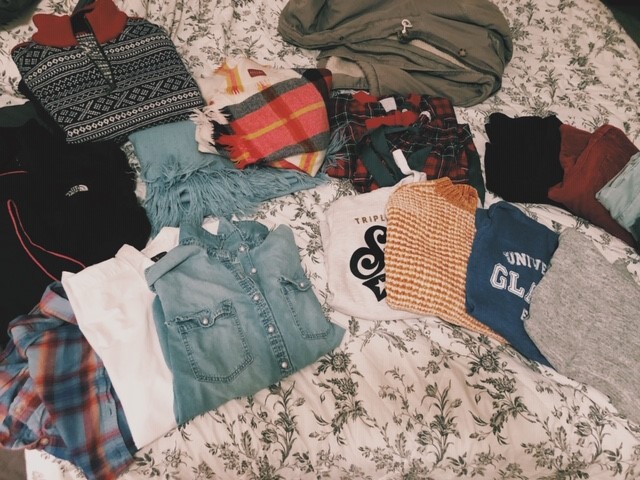 Scottish Vacation Capsule Wardrobe
The color palette came by default, as nearly everything in my closet currently contains some shade of red, blue, and white. I've considered this my classic color scheme for clothing for the last 6 years and I don't see myself transitioning away from it too far anytime soon. Maybe it's my national pride for my 2 favorite countries coming through, but I feel the most at home when I'm wearing them.
I tried to choose something for every eventuality because if you've ever been to the U.K. then you'll know that the weather is more unreliable than an ageing Italian sports car. I packed for cold weather and mild weather, dry weather and rainy weather - layering is your best friend when going across the pond.
I tried to limit the number of items I brought because I'm only travelling for 10 days in total. So, I stuck with 5 pairs of pants - 1 pair of dark red corduroys, 3 pairs of jeans, and 2 pairs of leggings for the plane.
I brought 1 sweater, and 3 sweatshirts of varying fabrics and thicknesses, sticking to colors that can be easy matched with the 3 button-downs and the black vest I also packed.
I definitely went function over fashion for this trip, as most people would have assumed. Not that I'm the trendiest person on the street on a normal day, but when I'll be doing plenty of driving, walking, and trudging through the rain, the last thing I want is to be wearing something glamorous and uncomfortable.
In total, I'm bringing 18 pieces of clothing - including all the things listed above, as well as 1 winter coat, 1 Northface jacket, my L.L. Bean Boots and my black Chelsea boots for dressier days. I feel really good about my choices. It might seem like a ton a clothing for only 1 vacation - Ethan somehow managed to fit then entire trip's worth in 1 carry-on bag. But to me - a chronically painful over-packer - this was a massive success. Maybe I should try doing a capsule wardrobe for a whole month or a whole season and see if it can help simply my life like it did packing for this trip.
What do you think? Have you ever done a capsule wardrobe? How many outfits would you bring for a 10-day adventure? Let me know below.
Write on, friends.