Many MINIs Motoring To The Mighty Mack
A sense of belonging - one of mankind's innate desires as we go through life. Being a part of something and having connections with other people gives you a warm, fuzzy feeling that you can't find anywhere else. Some people find it within their role at work, others seek it out within a church or political setting. It can be found in dozens of obvious places, but one place you might unexpectedly find your group is in the motoring world. Enthusiast groups exist across the whole spectrum of the automotive world - no matter what brand you drive, you'll probably find a group of like-minded driving fans to bond with.
That said, however, no motoring group in the world is quite like the fandom that is MINI Cooper drivers. Hi, my name is Jami, and I am a proud MINI Cooper owner and Extraordinary Miniac. 🙋🏼‍♀️
We who drive MINIs often live and breathe MINI Cooper madness. Our rules include but are not limited to, the requirements to park next to another MINI friend whenever possible, always wave at each other in passing, and name our MINIs as soon as they enter our possession. We have multinational FB groups to join, driving events at our dealerships to take part in, and events to attend together where hundreds of us congregate to go to places like out for meals and photoshoots, and even drive cross-country and through the mountains in packs.
One of the most notable of these in MINI on the Mack. A rally of over 1,000 MINI Coopers across the Mackinac Bridge that takes place every two years. The event began as a competition to beat out the current world record holders for the longest rally of MINIs, currently held by an event in the U.K. I think the holder of the current record is an event in Scotland, making it so hard to pick a side, in the end though, I want to be apart of history - but don't we all? This year, as we set out to break the record yet again, 1,400 of us packed our bags in our little boots (British for trunk) and began our journeys from all corners of the country to the mighty Mackinac Bridge.
MINI drivers congregated in St. Ignace in the Upper Peninsula days before the event to bond over dinner and drinks, and of course, our cars. We drove up the state with a small group of other MINIs and their drivers after leaving an opening event at Motor City MINI - stopping for breaks together and keeping pace as a group all the way up. Ethan and I met up with one of our favorite MINI drivers and his family - the guy who introduced me to the MINI community, to begin with. He and his wife have been attending events for years and this year they got to show up both with their own MINI - after he bought her one because she loved his so much. They've had a fleet of them over the years - as many Miniacs do.
The morning of the event, MINIs began lining up at 6 am, preparing to rally together around the lakeshore and then across the Mack together. After the opening words from the sponsors, we all started our engines and took off one-by-one honking and waving and causing quite the commotion (and surely some confusion, as well) for anyone who might have encountered our caravan.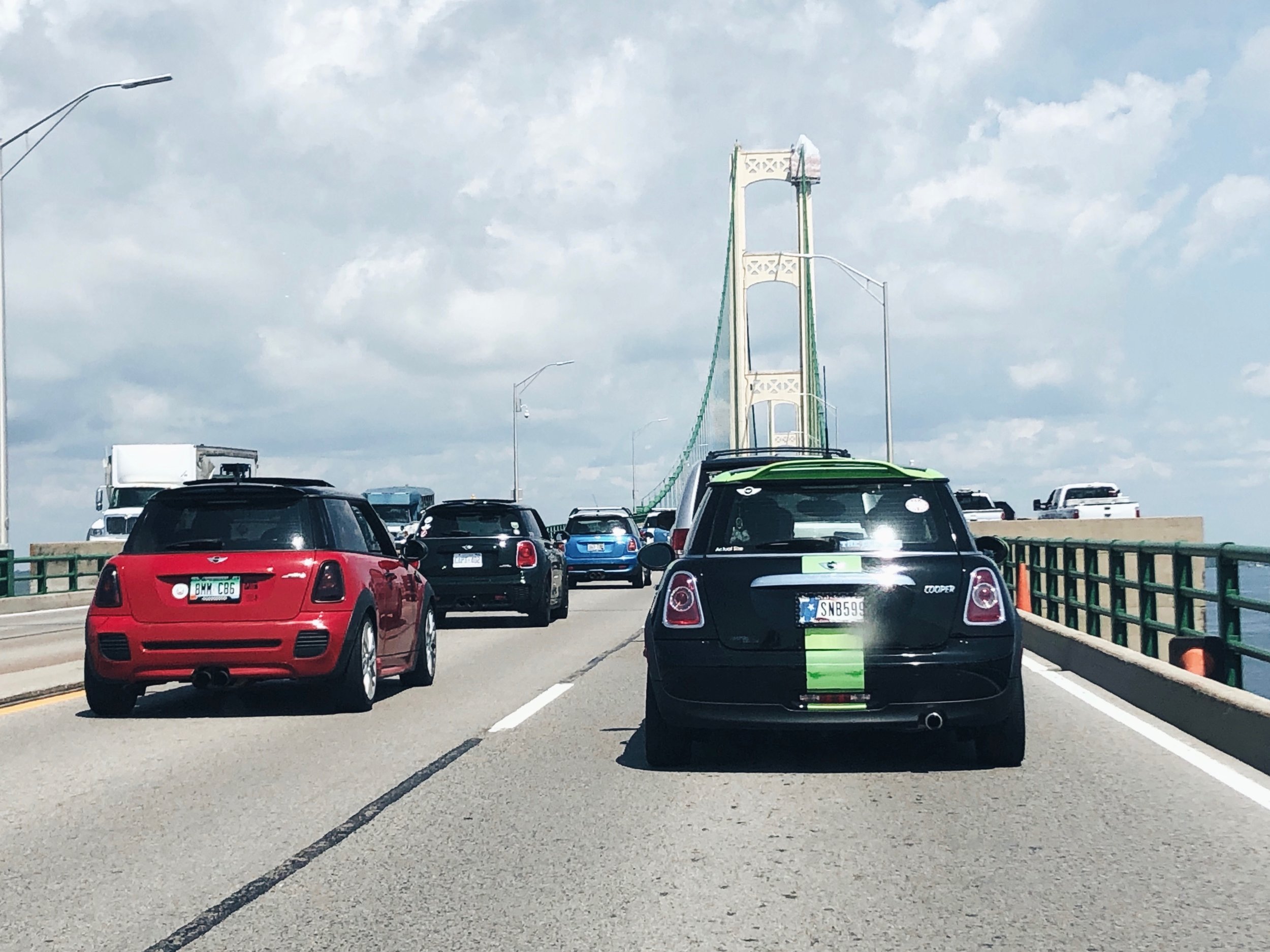 The whole event was a few hours long and without question one of the most exciting things I've ever done. In case you need evidence, I even managed to smile throughout the morning, even though that I'd missed out on my morning coffee - something that normally can keep me from even functioning. Those who know me well will see the significance. 😆 And while we didn't break the record (only missing the mark by less than 100 MINIs), the fun came from meeting and speaking with hundreds of other Miniacs who love their cars - sharing stories window stickers alike.
During one special moment before the rally, a gentleman came up to our car and handed us a rubber duck and said that we should have one to adorn our dashboard. He passed me a duck and a sheet of paper explaining the significance of the gift. Turns out a gentleman named Ed used to attend events and hand out ducks to his MINI friends. He passed away suddenly a few years back. He was well-loved in the MINI community and to receive a duck to honor his memory was a privilege. I legitimately cried. Sending love to Ed and the mystery man who gave me my new dashboard decoration. That was a moment I'll never forget.
In case you were wondering, My Mini's name is Mo.
Let me know if you'd like to hear more about him and our adventures together in the comments below.
When I got my MINI, I thought I was just getting a cute little car. Little did I know I was getting an all-access pass to one of the coolest and most-inclusive motoring groups on earth and an open invite to motor with my friends on the mighty Mack and beyond.